Access control and attendance monitoring systems
Access, voice announcement systems...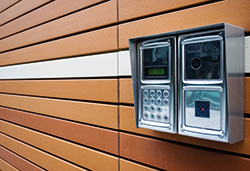 We provide access and attendance monitoring systems, which perform monitoring of people in buildings, basic identification, door and gate entry and also monitoring of working hours.
Implementation of such systems replaces attendance books and all manual tasks become fully automated. Part of our portfolio is also announcement systems that can be found in banks, offices and post offices. Our experience and number of successfully completed projects guarantee functional and easy to use system.
We provide
Complete solution design
Suitable communication units
Functional, comprehensive and reliable systems
Software solutions
Grafic design of contactless cards and chips
Upgrade of present systems
Complete maintenance service
TEMO Advantages
1.
Solution Proposal
We design complete solution.
2.
Project design
We provide all the design work.
3.
Realization
We provide complete realization, negotiating all necessary permits etc.
4.
Maintenance service
We provide full service and maintenance.