Data networks
LAN networks, data centers and structured cabling...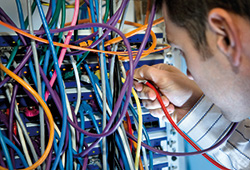 Computer networks (LAN) form another pillar of our company. Structured wiring, a significant component of any infrastructure, belongs inherently to a basic equipment of not only administrative and commercial centres but increasingly also households. We have been dealing with data networks and providing active installations since 2001. We hold certificates from numerous reputable data transfer technology manufacturers in areas of design, installation and project management. In 2009, we managed to complete over 5000 metallic and 3000 optical connections all over the Czech Republic.
We provide
Evaluation and design of data networks
Installation of metallic and optical networks
Measurements and diagnostics
Upgrade of present networks
Certification of manufacturer's systems
Complete maintenance service
TEMO Advantages
1.
Solution Proposal
We design complete solution.
2.
Project design
We provide all the design work.
3.
Realization
We provide complete realization, negotiating all necessary permits etc.
4.
Maintenance service
We provide full service and maintenance.