Security systems
EZS, EPS, CCTV...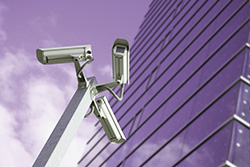 Considering the focus of our business, in 2002 we extended our services to offer installation of security systems. This category includes all electronic security and fire safety systems, including monitoring systems (CCTV).
We can secure buildings, warehouses but also open spaces. When selecting a security system we put a strong emphasis on quality, compatibility, extendibility, cost and above all user friendly operation. We have years of experience with solutions and installations in large administrative and industrial centres as well as in households.
Standard procedure is to set up a link to Central Security Desk or development of a different communication channel, so that the system is completely under your control.
We provide
Complete solution design
We negotiate and set up a link to PCO or the Fire brigade
Functional, comprehensive and reliable systems
Upgrade of present solutions
Complete maintenance service
TEMO Advantages
1.
Solution Proposal
We design complete solution.
2.
Project design
We provide all the design work.
3.
Realization
We provide complete realization, negotiating all necessary permits etc.
4.
Maintenance service
We provide full service and maintenance.