Sound and Emergency systems
Sound systems for halls, factories, buildings...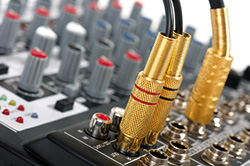 Another part of our services is the installation of sound and emergency systems. The most common applications are at the airport, railway stations, shopping centres and outdoor public broadcasting. Good technical parameters enable the sound systems to be used also in environments where there are high requirements for background sound quality or overall broadcast quality. Our company has a long experience with sound distribution in departure/arrival lounges, large company HQ's as well as family homes, bars and restaurants.
We provide
Solution design
Professional implementation
Functional, comprehensive and reliable systems
Upgrade of present systems
Complete maintenance service
TEMO Advantages
1.
Solution Proposal
We design complete solution.
2.
Project design
We provide all the design work.
3.
Realization
We provide complete realization, negotiating all necessary permits etc.
4.
Maintenance service
We provide full service and maintenance.